Desperate Housewives 4x1
Now You Know
"Now You Know" is the fourth season premiere episode of the American comedy-drama series Desperate Housewives, and the 71st episode overall. The episode premiered on ABC on September 30, 2007. It was written by series creator Marc Cherry and directed by Larry Shaw.
In the episode, Susan learns that she is expecting a child while Bree continues to fake her own pregnancy. Gabrielle begins an affair with her ex-husband, Carlos and Lynette tries to conceal her cancer from her friends and children. The episode also introduces Katherine Mayfair, Susan's old friend who returns to the neighborhood after being away for 12 years.
"Now You Know" drew over 19 million viewers, becoming the fourth most watched program of the week across all networks. Nevertheless, it was the least watched Desperate Housewives season premiere at the time. The episode received positive reviews from critics, who agreed that the episode showed significant improvement over the show's third season. Critics also praised the addition of Delany to the cast. ABC and the show's producers received viewer backlash due to an alleged slur against Filipino doctors included in the episode.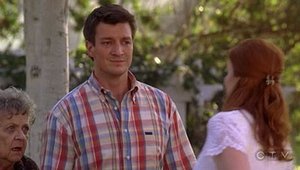 Sep. 30, 2007
Desperate Housewives season 4